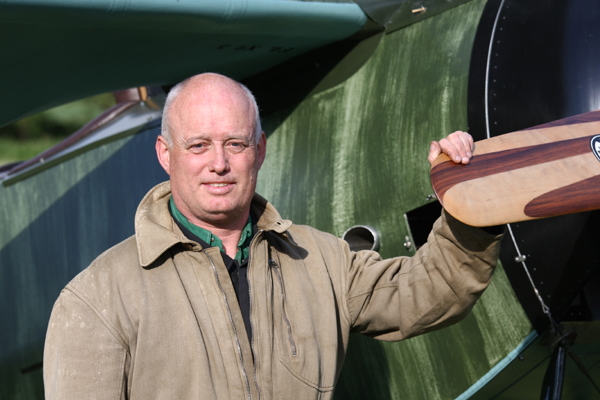 Mikael Carlson was born in 1959 and he has ever since childhood been most interested in aviation. Already at an early age he was a very skilful model airplane builder which eventually resulted in gold and silver medals at two consecutive World Championships for R/C scale models. A dozen of the static display models at the Swedish Air Force Museum are also built by Mikael, confirming his craftmanship. Today Mikael works as a captain on Boeing 737.
In 1982 – only 23 years old – Mikael started to build the Swedish 1919 fighter trainer "Tummelisa" as his first project. Only using original parts, engine and authentic material and techniques, the result was stunning. With the same approach Mikael restored two original Thulin A/Bleriot XI's, built a Fokker Dr.1, a Fokker D VII and a Pfalz D.VIII – and of course there's always projects waiting to be announced.
Despite the uniqueness of Mikael's aeroplanes, he prefer to fly them as they once were flown: A full display covering everything that was done with the machines in the early years. Everyone who have seen Mikael fly understands that straight jumps is nothing for Mikael. Old aeroplanes should be flown!
Mikael and wife Gunilla, experienced wing walker and pilot, reside in the very south of Sweden . Here they have their hangars, a private grass strip and last but not least – a well-equipped workshop.
---
Photos & Videos