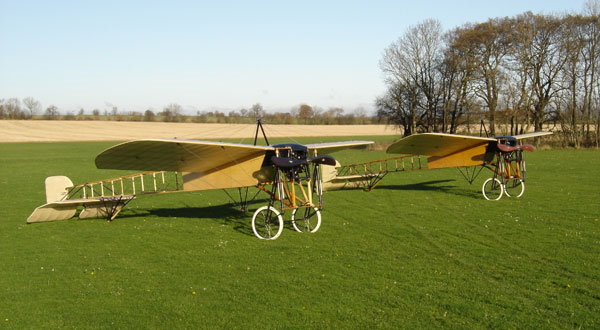 "Monsieur Wright has us all in his hands" were the words by the aviatior Louis Blériot after Wilbur Wright's flights at Le Mans in June 1908. The reason for these words was the Wright system of wing warping to enable an aeroplane to turn with lateral control.
Louis Blériot was the first airplane designer in Europe to adapt the wing warping system and he used it for his Blériot XI, the first modern monoplane. On July 25th the following year, he was the first aviator to cross the English Channel with his machine.
The Blériot XI is not only famous for the crossing of the Channel. It was also the first aeroplane to cross the Alps, the first aeroplane to be used for military service and the first aeroplane to loop the loop.
The Blériot XI soon became one of most popular aircrafts of the time and a great number were built in many countries. It was used by several air forces during the First World War and one of the countries building the Blériot XI was Sweden. In Sweden the type was used as trainer in the years 1913-1919.
Mikael Carlson owns and flies two of these Blériot XI's, orginally built by AETA – AB Enoch Thulins Aeroplanfabrik – under the name Thulin A. The first one was found by Mikael in a barn in the late 80's, disassembled but complete. Mikael restored it to flying condition, took off  for the first time in 1991 and have been flying it regularly every year since then. This plane has not only participated in a number of air displays and film productions all over the world but it is also the plane in which Mikael recreated the crossing of the English Channel in 1999, exactly 90 years after Louis Blériot!
The restoration of Mikael's second Blériot XI was completed in October 2004 and despite the unpredictable Swedish autumn weather all flight tests were completed only weeks later. Mikael crossed the English Channel with this plane in 2009 to celebrate 100 year anniversary of Bleriot's flight.
Both aeroplanes are equipped with original 7 cylinder Gnôme-Omega 50 hp rotary engines 1908 model, engines of course restored by Mikael himself.
Read more on The Vintage Aviation Echo about the Bleriots here!
---
| | |
| --- | --- |
| Wing span: | 8.95 m |
| Length: | 7.76 m |
| Height: | 2.54 m |
| Empty weight: | 317 kg |
| Engine: | 7-cylinder Gnôme-Omega rotary, 50 hp |
| Cruise speed: | 41 kts |
---
Photos & Videos